News and Events
October 2015
We are happy to announce the arrival of our beautiful buckskin filly, Searah's Mystery, out of Tullymor's Secret Pearl and by Tullymor's Mountain Steel.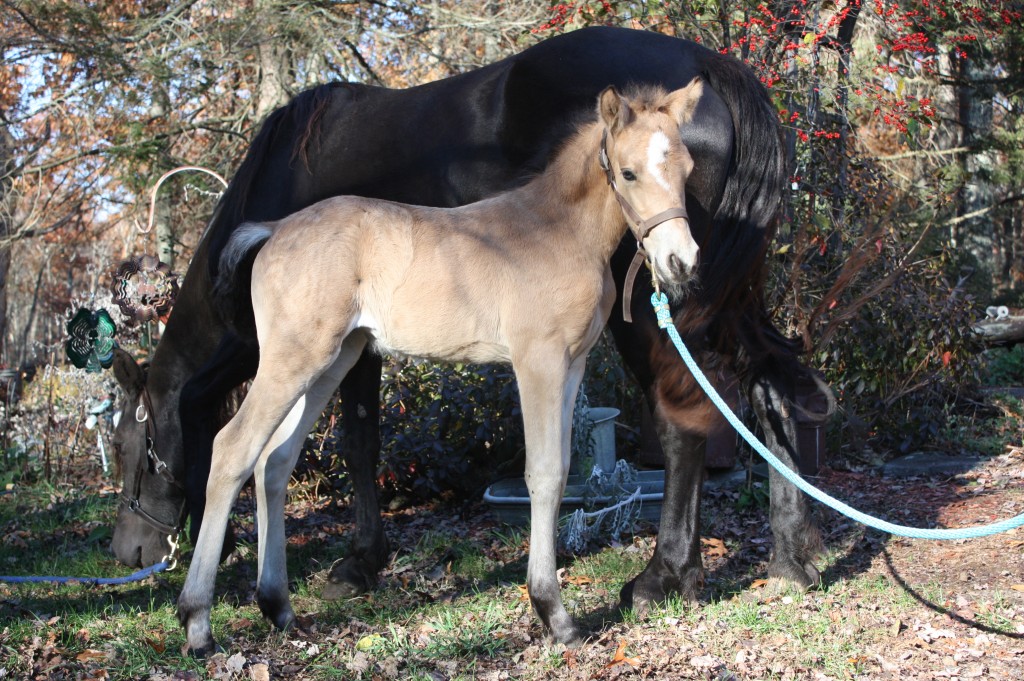 September 2015
We are happy to announce the arrival of a new mare to our farm, Tullymor's Secret Pearl! We are also expecting three foals for Spring 2016. Pictured below is Good Earth Victory Go Brah. "Rye" is safe in foal to Tullymor's Mountain Thunder. This foal will be the perfect combination of old type Connemara and performance bloodlines! Also pictured below is our lovely mares greeting Pearl into the herd.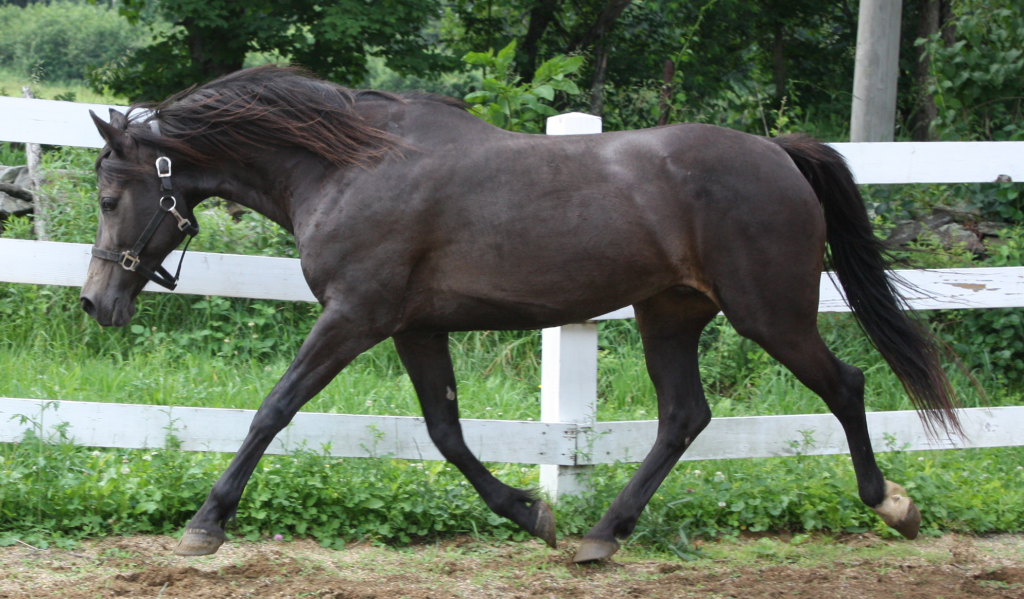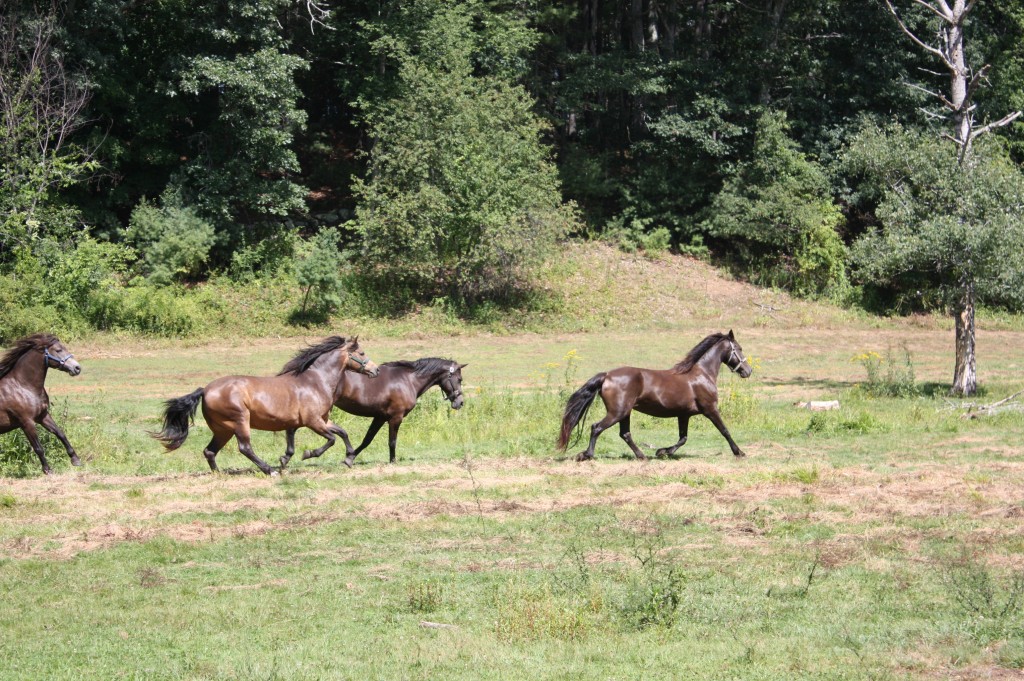 November, 3, 2013: Come visit us at Equine Affaire! November 7-10! We will be bringing two lovely yearlings, Searah's Gold Rush (Tullymor's Mountain Thunder x Tullymor's Lisa Supreme) and Searah's Irresistible Diva (Donarweiss GGF x Searah's Fells Isleen TSF). We will be in C Barn, stalls 25-27. Hope to see you there! Also we are promoting our two purebred stallions, Valley Creek Angileri and Tullymor's Mountain Thunder! Book a breeding for Spring 2014, live cover and AI available!
July 27, 2013: Show success! Searah's Gold Rush did amazing at the Region 1 ACPS Breed Show! Rush, who is only a yearling, won Youngstock Champion, Champion Gelding, and Reserve Champion Connemara In Hand! This handsome young gelding is a performer and a willing partner. Rush is for sale, and is sired by Tullymor's Mountain Thunder.
June 9, 2013: Trum-Searah Farm is excited to announce that our stallion, Tullymor's Mountain Thunder, is now available for AI! Stud fee $400 plus booking and collection. Collections are done at UMass Equine Center by Dr. Gradil. Tullymor's Mountain Thunder has sired many lovely ponies and crosses with superb conformation, movement, and temperament. Call Kathy Trum-Searah at 774-200-1809 for more information.
June 7, 2013: Baby Dixie being a sweetie! Dixie is a lovely QH cross by Tullymor's
Mountain Thunder. Dixie is an elegant filly with the best of both breeds! Now accepting pre-weaning deposits on our fillies, don't miss out on these awesome Tullymor babies!
May 8, 2013: Luna foaled at 8:20pm and had a stunning filly named Searah's Whistling Dixie, and she is by Tullymor's Mountain Thunder. Dixie is very sweet and willing, and loves playing with her half sister Cora.
April 19, 2013: Cordia foaled at 9:10pm and had a gorgeous bay filly named Searah's Coraline, and she is by Tullymor's Mountain Thunder. Coraline is an absolute sweetheart and loves people! So kind and willing at her young age!
March 17, 2013 ACPS Region 1 Connemara Tea: Kathy, Lisa, and Jordan went to the Region 1 Connemara Tea at Sally Oxnard's in Exeter NH. We had a wonderful time and we were able to share news about our upcoming foals and sale ponies. We also introduced new member Jordan Tedoldi, our upcoming dressage trainer!
March 14, 2013: Spring has almost arrived and foals are on their way! We are currently expecting two foals this year, one purebred Connemara and a paint cross. Both mares are due the end of April! Updates to follow!
February 9, 2013: Connemaras don't mind the snow! Even after two feet of the white stuff, these ponies are out there playing and having a grand ol' time!
November 11, 2012 Equine Affaire: A big thank you to all that came to see us at Equine Affaire! The ponies all did a wonderful job representing the breed in the Breed Pavilion and in the Sport Pony Demo!
September 22, 2012: Trum-Searah Farm would like to announce the marriage of Raymond and Lisa Trum-Searah! It couldn't have been a more perfect day! A big thank you to Friesians of Majesty too!
September 19, 2010 Parade: Trum-Searah Farm participated in the 250th Anniversary of the Quaboug Plantation Parade, and boy did we have a blast! We had horses from our farm and Eclipse Ranch, followed by Raymond's jeep towing a hay wagon with The Big Gunz band of East Brookfield, MA playing awesome music! Little Chester represented the New Braintree Grange #170!
June 2009 Reenactment of Wheeler's Surprise: Trum-Searah Farm had the opprotunity to recreate history in the Reenactment of Wheeler's Surprise, a historical battle with the Native Americans, as a part of the celebration of the Quabbin Plantation. We rode in to negotiate peace with the Indians, when we were ambushed by the Indians and musket fire was everywhere! Captain Wheeler was shot off his horse, but his son rode back to rescue him! The horses used in this reenactment were from Trum-Searah Farm, Eclipse Ranch, and Dry Brook Farm.